About Lamp and Quill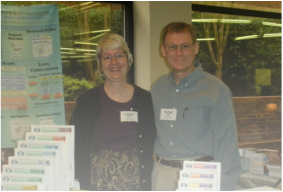 Lamp and Quill develops and publishes Bible Studies and Devotional Bible Study material for all ages. We were blessed to have someone teach us how to look into God's Word, find answers to life and develop our own personal walk with the God of the Bible many years ago. Our goal is to pass on a method of helping others grow in their walk with God through the Scriptures and help them train up a godly generation devoted to knowing God and helping others get to know Him.

The Proverbs 2 mandate of treasuring Gods commands within and seeking for wisdom as if we are seeking silver and hidden treasure is the model we advocate pursuing with an eager receptive heart. Proverbs 2:10 says that when wisdom enters our heart and knowledge is pleasant to our soul, discretion will preserve us and understanding will keep us. This is certainly needful today. The remainder of Proverbs 2 explains some ways we are protected and delivered, along with describing the fate of the wicked.

Lamp and Quill is not a substitute for Scripture, but rather acts like a shoehorn, guiding individuals into the Bible. These studies cover most books of the Bible in six years on a chapter-by-chapter basis, and include the threads and themes throughout. The focus is on learning to think about Scripture and getting to know the God of the Bible in a personal way as our Savior, our joy, our daily hope and our hope for the future. Lamp and Quill curriculum is not merely a remembrance of historical highlights and heroes of the past. Each of us is individually important to Almighty God, and our lives are being sanctified as we live daily in His holy presence.
---
Who Are the Developers?
Mike is the director and editor of the materials. He grew up in the midwest and has a degree in the business field. Carolyn is the initial writer of the materials. She grew up on the east coast and has a degree in education. They have lived in several states including Virginia, Pennsylvania, North Carolina, Kansas, Oklahoma, California and Texas (where they now reside).
Mike and Carolyn have two children who were their guinea pigs and six grandchildren who are beginning to learn truths from the Scriptures from their parents and grandparents. They are in a conservative church in the Dallas area where God's Word is lifted up according to the basic truths given below.
Teachers and children across the country have been the research and development support teams as they tell us about their successes and failures. We delight in sharing about what to use that works and what to eliminate that does not work. While methods have varying degrees of success or failure, God and His Word never fail and that is our focus throughout.
See the
Frequent Questions
section for additional background information.
Basic Truths
Individuals have a conscience which can respond to God. We must be faithful to communicate spiritual truths to the next generation because God has commanded us to do so (Dt. 6) and because they genuinely have a great capacity to understand them. Below are some of the spiritual truths which preschoolers can begin to understand and which all individuals should understand. (For more information see
Salvation for ...
and
Conscience Development
in the individual
Spiritual Teacher Training 101
books.)
Basic Truths: Threads and Themes
Holy Bible:
The Bible is God's Word to us about Himself; His Son, Jesus; the Holy Spirit and His plan for man. It should be handled respectfully (John 1:1-14; Matthew 1; 2 Peter 1:2-11).
God:
The Godhead is one God in three Persons, the Father, Son and Holy Ghost (Spirit). God is holy, immutable, just, loving, merciful, omnipotent, omnipresent, omniscient and sovereign; a partial list of characteristics. God and His Word will stand forever (Genesis 1; John 1; Isaiah 40:8; Revelation 22).
God Created:
God created all things, including each person (Genesis 1; Romans 1:18-25).
God is Righteous:
God is perfect and cannot allow sin in His presence (Matthew 5:48).
God Loves Everyone:
God loves each person and wants each person to be in His presence and care (Genesis 1:26; John 3:16; John 15).
Sin Separates:
The first people, Adam and Eve, sinned, which separated them and everyone else from the presence and fellowship of God eternally (Genesis 3; Romans 3:23).
Sin Demands Payment:
Sin's penalty must be paid before a person can enter God's presence (Romans 6:23).
Jesus Paid Sin's Price:
God sent His Son, Jesus Christ, to pay the price for sin for each individual by dying once as the only perfect sacrifice (Hebrews 9:11-14; 1 Peter 1:18-19, 3:18).
Individuals Accept Jesus' Payment:
God, through His Word and the work and power of the Holy Ghost (Spirit), draws individuals to Himself who must, by faith and repentance, accept Jesus' free gift of salvation (John 1:12, 3:3-7; 5:24; Ephesians 1:7; 2; Acts 3:19; 17:30; 26:20; Romans 10:9-10).
Jesus is in Heaven:
Jesus is in heaven today preparing a place for each person who repents and accepts the free gift of salvation by faith (John: 14:2-3; Romans 10:9-10; Titus 3:5-7).
Basic Truths: Attitudes and Behaviors
Show Respect:
Develop respect for position (Hebrews 13:17; 1 Peter 2:17); age (Leviticus 19:32); parents (Exodus 20:1-17); peers (Genesis 1:26); property and nature (Genesis 1:28-31).
Trust and Obey:
Develop trust and obedience to God and a hunger and thirst for righteousness (Matthew 5:6, 10, 20; 2 Timothy 3:16).
Sing Songs and Praise God:
Begin singing about God and to God (Colossians 3:16).
Pray:
Begin learning to talk with God in prayer (Matthew 19:14).